Yup, this is my last GDT card for
Stampin' Up for The Weekend
. This week's theme is another festive card with a color combo:
BLUE
AND
BROWN
! I must say, these two colors go well together. I love it! This is another one of my favorites!
This week's challenge is being sponsored by Simon Says Stamps! Heidi is offering one lucky winner $25 to spend in the store! Woohoo! Think of all the crafting goodies you can get! Check out the store! They have a huge variety of goodies!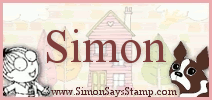 This is my take on the challenge. I decided to go with a different shape card this time, something different for a change. :D
Is it cold at where you are? Ever since the rain, it has been cold here. FREEZING! I know, it's nothing compare to the snow. But this is LA! I usually can stand the cold weather but I actually have to turn the heater on when I go to work in the morning! Brrrr...
Anyway, enjoy your Friday and I will catch everyone later! I have one more long day at work. It's going to be a busy one. I have been on a rush special assignment these last couple of days and had to put all my own work on hold. So, now I am all behind!
Card Details:
Stamps: All stamps by Hero Arts
Paper: The Paper Company
Ink: VErsa Magic, Copic
Embellishment: gems, ribbons
Tools/Others: snowflake punch, embossing folder, nesties, stickle, flower soft